2003 – Mayor McCallion Marks her 10th Term in Office and Celebrates 25 Years as Mayor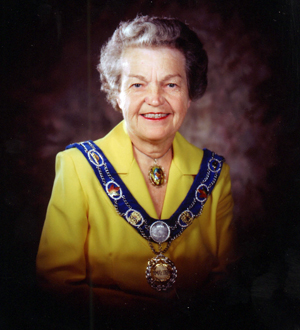 Hazel McCallion became Mayor of Mississauga in November, 1978. She was acclaimed Mayor in 1980, re-elected in 1982 and 1985, acclaimed in 1988 and re-elected in 1991, 1994, 1997, 2000, 2003 and 2006.
She was born on February 14, 1921 and grew up in Port Daniel, Quebec, the daughter of Herbert and Maude Journeaux. She was educated in Quebec City and Montreal and then moved to Toronto where she worked in office management with Canadian Kellogg Company, a firm that specialized in building oil refineries and chemical plants. On September 29, 1951, she married Samuel McCallion, a photographer who grew up in Mount Dennis (now Toronto). They lived on the Britannia Sideroad, near Streetsville, and became active in the community.
In 1954, Sam opened Unique Printing and in 1964, he founded the "Streetsville Booster". In 1967, McCallion ended a 19 year career with Canadian Kellogg and committed herself to politics. She was a member of the Streetsville Planning Board in 1964 and served as Chair of the Board in 1966 and 1968. She was elected Deputy Reeve of Streetsville in 1968 and appointed Reeve later that year. In 1970, she was elected Mayor of Streetsville. When the City of Mississauga and Region of Peel were established in 1974, McCallion was elected Councillor to both the Mississauga and Peel Regional Councils.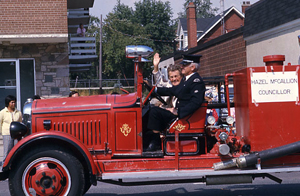 McCallion has served on the executive of many federal and provincial committees. In 1978-79, she was President of the Association of Municipalities of Ontario.
She established the Greater Toronto Area Mayors' Committee in 1992. In 1996, she was appointed to Ontario's "Who Does What" Panel to review government services. In 2002, McCallion was appointed Chair of the Central Ontario Smart Growth Panel. Hazel McCallion has three children: Peter, Linda and Paul. Sam McCallion passed away on May 14, 1997. She celebrated 25 years as Mayor in 2003.