1978 – Hazel McCallion Becomes Mayor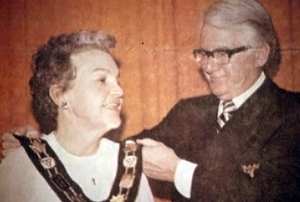 In 1978 Ron Searle relinquished the mayoral chain of office to the new Mayor of Mississauga, Hazel McCallion. Former Councillor Searle had defeated incumbent Mayor, Dr. Martin L. Dobkin, in the 1976 municipal election.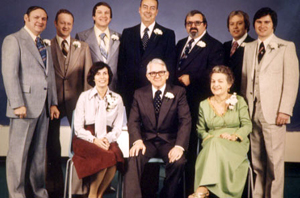 Mayor Ron Searle was photographed on January 4, 1977 with the 1977-1978 City Council. Front row, L to R: Councillor Mary Helen Spence; Mayor Ron Searle; Councillor Hazel McCallion. Back row, L to R: Councillor Harold Kennedy; Councillor Frank Leavers; Councillor Frank J. McKechnie; Councillor Fred H. S. Hooper; Councillor Frank Bean; Councillor Terence W. Butt; Councillor Larry Taylor.
In 1978, however, Searle was himself defeated by challenger, Hazel McCallion, the former Mayor of Streetsville, representing Streetsville, now Ward 9, as councillor. Mayor McCallion was sworn in on December 4, 1978 and has served undefeated as mayor of Mississauga since then.