1974 – The City of Mississauga is incorporated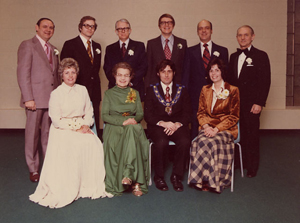 The town of Mississauga was created in 1968 by the amalgamation of the communities of Clarkson, Lakeview, Cooksville, Erindale, Sheridan, Dixie, Meadowvale Village and Malton. The villages of Port Credit and Streetsville remained as separate entities until 1974 when they joined the town of Mississauga by amalgamation to form the City of Mississauga.
The Inaugural Meeting of the Council of the new City of Mississauga was held at Glenforest Secondary School on January 16, 1974.  The photo shows L to R: Front: Caye Killaby, Hazel McCallion, Mayor Martin Dobkin and Mary Helen Spence; Back: Harold Kennedy, David Culham, Ron Searle, Frank McKechnie, Bud Gregory and Hubert Wolf.
Premier Bill Davis conferred the mayoral chain of office on Dr. Martin Dobkin, the first mayor of the incorporated City of Mississauga.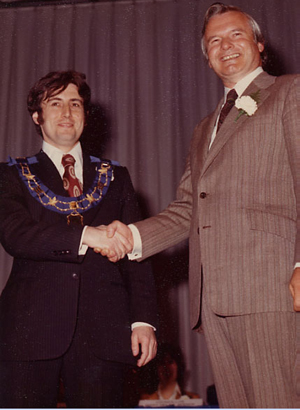 Dr. Martin Dobkin was born in Toronto and had been the Peel County coroner. He was elected Mayor in 1974 and served for three years, only one term, as mayor, and was defeated in the 1976 election by Ron Searle.