1973 – Square One Shopping Centre opens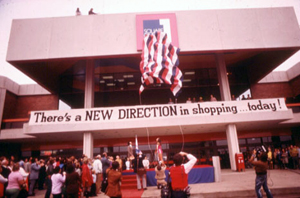 Square One Shopping Centre, located at the corner of Burnhamthorpe Road and Hurontario Street, opened on October 3 1973. Square One was the brainchild of S. B. (Bruce) McLaughlin who had bought up the land where it stands. The property had been the Carr Farm, the home of Bill and Mary Carr located at Lot 16, Concession 2 NDS.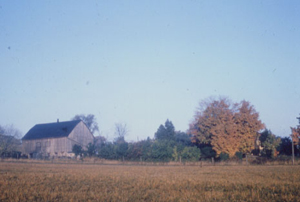 The land was originally owned by Charles Wilcox, according to both the Tremaine 1859 map of Peel County and the Illustrated Historical Atlas of Peel County, 1877. It is believed that William Park Carr may have been the next owner after Wilcox, but he did not farm the land. His son, Robert Norman Carr, lived on the land and farmed it from 1928 to 1963. The land was bought by S. B. McLaughlin in 1959-1960 and Robert's son, William Norman Carr, remained on the land as a tenant until 1963.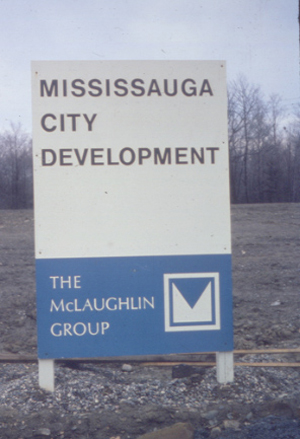 By May 1972 the first S. B. McLaughlin sign had gone up on the Carr farm and construction of Square one had begun. The shopping centre opened with 175 stores, anchored at its four corners by Woolco, The Bay, Dominion Store and Simpson-Sears. In the centre was an elaborate courtyard garden. Surrounding the centre was parking for 6,300 cars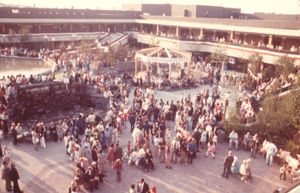 The centre court was enclosed in 1986 and more stores and a Food Court were added. Square One was known as the largest enclosed mall in Ontario and the second largest in Canada, with over 360 stores, parking for over 8,700 cars, and the addition of a ten screen Cineplex Odeon Cinema.
In 2010, the four major department stores are The Bay, Sears, Wal-mart and Zellers, and the shopping centre is home to several community-based organizations.