1958 – Mississauga Hospital Opens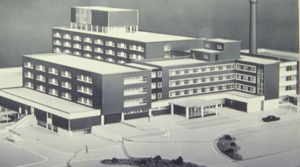 This is a model of the Mississauga Hospital at 100 Queensway West. Originally known as the South Peel Hospital, it was officially opened in May 1958 with 125 beds. Within six years the facility had expanded by another 275 beds as a result of a $5.6 million building programme. Psychiatric and Extended Care wings, with an additional 100 beds, were added in 1968.  In 1970 the name was changed to Mississauga Hospital.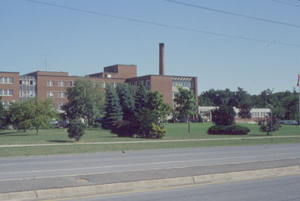 In 1983 the Hospital opened another expansion, bringing the number of beds to 628. The expansion included a Coronary Care Unit, a second Orthopaedics Unit and a Continuing Care Unit. The Emergency Department was redesigned. A Regional Neurosurgery Unit opened in 1987 and a new Labour, Delivery, Recovery and Post Partum Suite was introduced in 1991.
In 1998 the Mississauga Hospital merged with the Queensway General hospital to form the Trillium Health Centre, which serves the population of central and south Mississauga and south Etobicoke.