1889 – St. Lawrence Starch Company Begins Operations in Port Credit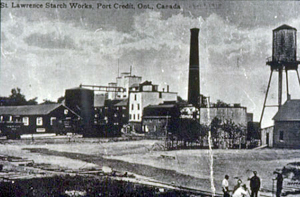 This is a view of the Starch Company, ca. 1910. The St. Lawrence Starch Company was built on this site in 1889 under the management of John Gray. At this time the plant ground about 2,000 bushels of corn per week to produce corn starch and glucose for industrial use. Later products included Bee Hive Golden Syrup, Durham Corn Starch and Ivory Laundry Starch, as well as St. Lawrence Corn Oil. In 1915 the original frame building burned and was replaced by one of red brick. In 1990 the plant was closed. The smokestack was demolished in 1994.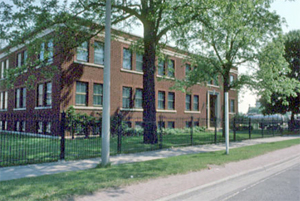 The St. Lawrence Starch Company is now gone and the area it occupied is now a condominium development, but the Administration Building, shown in the photo, is still there at 141 Lakeshore Road East.