1879 – Lorne Park Amusement Park Opens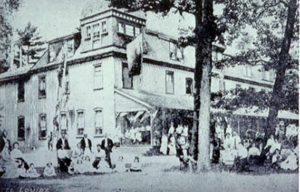 This was the Hotel Louise in Lorne Park Estates. The land on which Lorne Park Estates is today was unclaimed land until late in the 1850s. In 1877 it belonged to J. and W. Orr, when it was discovered by Toronto residents and became a popular amusement park.
Lorne Park was officially opened on May 24, 1879 by the Marquis of Lorne, Governor-General of Canada. The amusement park contained a shooting gallery, swings, slides, a merry-go-round, dancing, a pavilion and a restaurant. There were also a bowling green and tennis courts.
The Hotel Louise was built in 1879 and redesigned by Edmund Burke in 1889 in the elaborate style of the time. The hotel had been named after Princess Louise, the daughter of Queen Victoria, the wife of the Marquis of Lorne. It was well patronized and also used as a meeting place and social club for the cottage owners who settled in Lorne Park. In 1909 it ceased to operate as a hotel and was used as a cottage. In 1920 there was a fire in the hotel. It eventually became derelict, and no longer exists.