1844 – Barber's Woollen Mills are operating in Streetsville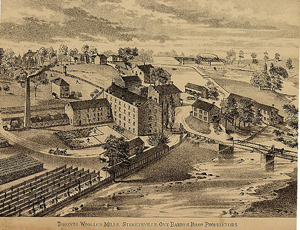 This sketch of the Toronto Woollen Mills, Streetsville, operated by Barber Bros., is taken from the Illustrated Historical Atlas of Peel County, 1877.
The first mill on this location was owned by William J. Comfort, who had a sawmill and probably a grist mill in operation before 1826. Comfort gave shelter to William Lyon Mackenzie during the 1837 Rebellion and was consequently jailed. In 1843 he sold the property to William and Robert Barber of Georgetown, who established the Toronto Woollen Mills. The original mill was burned in 1861 and reconstructed of Credit Valley stone and reopened. The mill was closed some time in the 1880s and later reopened.
During World War I it was converted to a flour mill.  It later became the Oriental Textile Mills.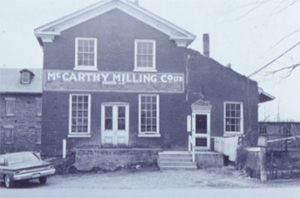 In 1931 Oriental Textile Mills was bought by McCarthy Milling Company and later by ADM Agri-business Ltd.