1826 – The Credit Mission is Built for the Training and Education of the Mississauga Indians.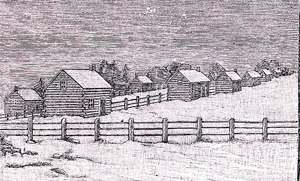 This sketch of the Credit Indian Village in winter is taken from Egerton Ryerson's autobiography, The Story of my Life. The Mississauga Indians had agreed to sell to the Crown most of the Credit River Indian Reserve retained in the 1805 Treaty, except for 200 acres on the west bank of the Credit. In 1826 they left their village at the mouth of the Credit and relocated to the new reserve.
In the early 1820s Methodist ministers, concerned for their welfare, came to the Indian village. One of these ministers was Egerton Ryerson, the first white missionary to the Credit Indian Village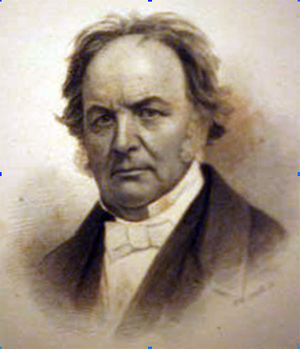 The most famous of the Indian missionaries who ministered to the Mississaugas was the Reverend Peter Jones (Kahkewaquonaby).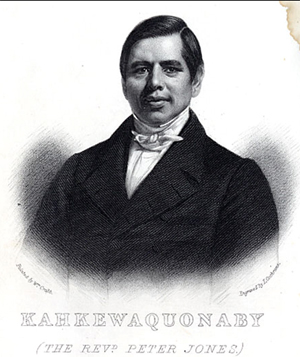 He was the son of the surveyor, Augustus Jones, and his Indian wife, Tuhbenahneequay. Jones was raised among the Mississaugas. He became a Methodist in 1823 and began preaching as a Methodist missionary in 1825. Along with his brother, John, and his friend, Egerton Ryerson, he ministered to the Mississaugas at the Credit Village. He translated the gospel into the Ojibway language and wrote a history of the Ojibway Indians. In 1829 the Credit band elected him as one of their chiefs. As official spokesperson he travelled regularly to York (Toronto) and in 1837 visited England on their behalf.
The Credit band relocated to land provided by the Six Nations Indians in 1847.  In 1851 with his wife, Eliza Field, he retired due to ill health to his home at Echo Villa in Brantford, where he died in 1856.