1806 – Treaty Between the Mississauga Indians and the British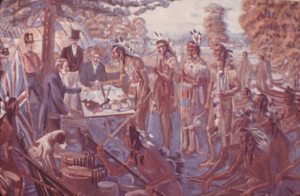 This painting by the artist, George McElroy, is an imaginative reconstruction of the scene on August 1st, 1805 when the Mississauga Indians surrendered to the British Crown a strip of land along the north shore of Lake Ontario from the Etobicoke River to Burlington Bay. The treaty was signed at Government House between representatives of the British government, led by William Claus, Deputy Superintendent General on behalf of the Crown, and chiefs of the Mississauga Indians, led by Quenepenon.
By the terms of the treaty the Mississaugas transferred ownership of over 74,000 acres of land to the Crown. On June 18, 1806 the treaty was finalized and the Mississaugas were given in return one thousand pounds (about $8,500), along with the land where they were encamped, fishing rights on the Etobicoke River, Twelve Mile Creek and Sixteen Mile Creek, and a strip of land one mile on either side of the Credit River.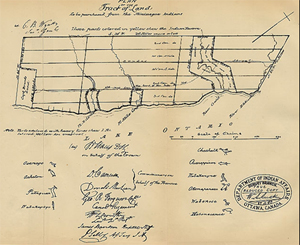 The land the British acquired from the Mississaugas, known as the First Purchase, was surveyed in 1806, named Toronto Township and opened for settlement.